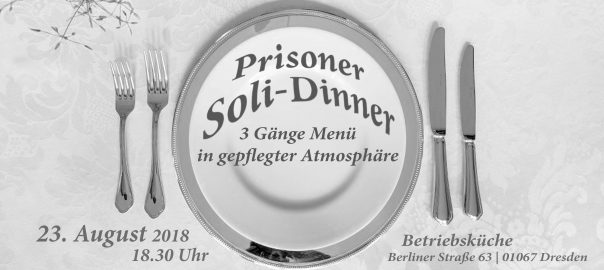 Week of solidarity with anarchist prisoners in Dresden, Germany
Over the run of the week from August 23 to August 30 we have organized 4 events to stress the importance of struggle against repressions and solidarity with anarchists. On the first day we solidarity dinner was served for the fundraising purposes. In atmosphere of real restaurant people were served 3 different dishes for donations. ABC Dresden organizing those events every 3-6 months and this time the turn up was over 60 people. For monday 27th screening of documentary "Sacco and Vanzetti" was planned, however big mobilization of nazis to german city of Chemnitz forced us to cancel screening and join the antinazi mobilization. However the food was still surved. Tuesday we watched a documentary "Syria's disappointed" about the repressions of Syrian state against those fighting it. The last event on 29th was about two repression cases in Berlin – people from the support group gave a talk on that issue.
All in all we find the week brought to the light a lot of different questions, that people in Dresden don't have to deal normally as repression level against anarchists in the city is not really high. We also believe that this week helped us to move on with establishing real solidarity culture in case of repressions not only with your friends but with the anarchists all around the world.