In celebration of the International Week of Solidarity with Anarchist Prisoners, London Anti-Fascist Assembly together with the Dalston Solidarity Cafe is organising a Anarchist Prisoner Solidarity Day on the 27th to benefit the Dalston Arrestees from the recent anti-immigration raid resistance.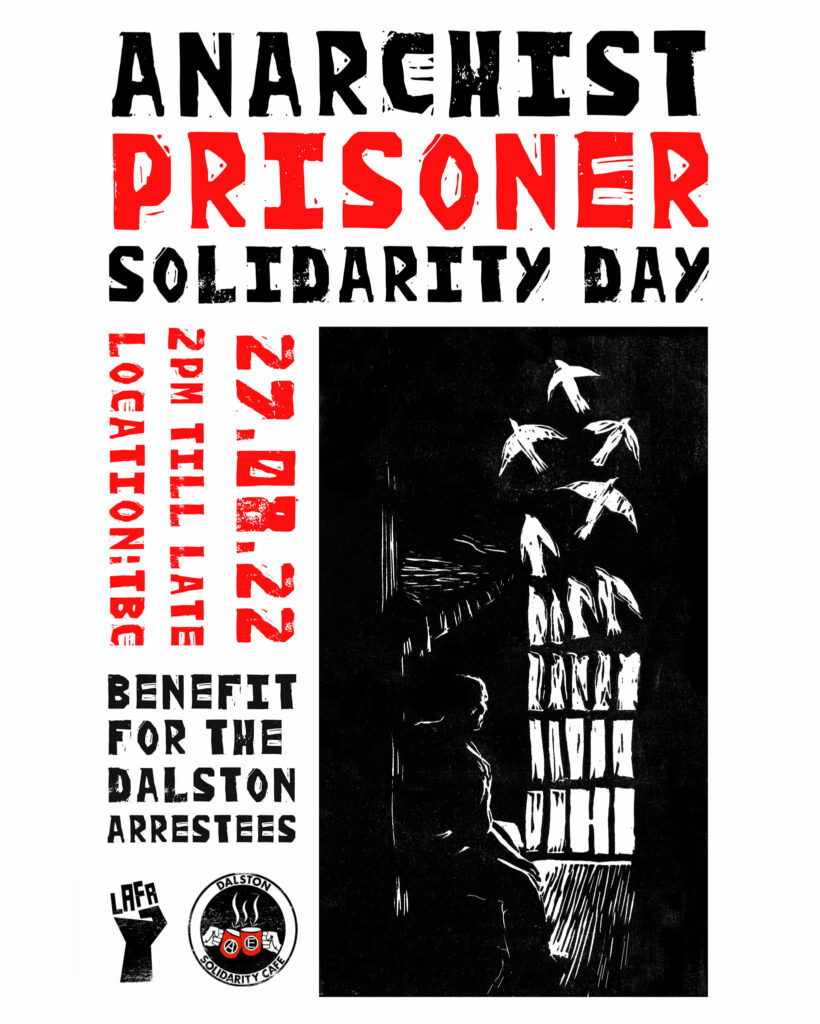 Join us for a day of creative resistance, including: art, music and talks. Food and drink will be given away for suggested donations at popular prices. Throughout the day, we'll be selling tickets for a raffle. The draw and announcement of the winners will be around 8pm.
Win some of the revolutionary artwork by seize.the.mean , doublewhy_y , buyanewsoul & others (more info coming soon). The money raised will go to support the Dalston arrestees in covering fines and legal costs.
WHERE: Halkevi (33 Dalston Lane, E8 3DF)
WHEN: Saturday 27th August, 2pm till late
PLAN FOR THE DAY
2pm
Creative sesh: painting, subvertising making, … Bring art supplies to share!
3.30pm
Talk with the Dalston anti-immigration raid defendants
4pm
Call with Toby Shone and Q&A
5:30pm
Open mic: hearing about anarchist struggles in Europe
6pm
Vegan BBQ
7pm
Prisoner letter writing
8pm
Raffle draw & winners announcements

More info about what to expect coming soon. Save the date, see you there!

More about LAFA:
https://network23.org/lafa/
tt: @London_AFA