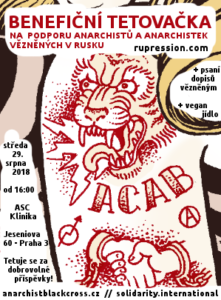 On August 29th 2018 in social centre KLINIKA in Prague an event took place for solidarity with anarchist comrades imprisoned in Russia. Event was organized by a local ABC group and people could get a tattoo for some benefit donation. Collected money will help to cover legal costs, material support and other needs of campaign.
Those who didn't want to get a tattoo, could at least get some benefit vegan food or write some letters to prisoners. The evening was followed by screening with street art topic.
We met to have a good time altogether and help imprisoned comrades. We will continue similar activities in future.