August 23rd
– Why are we against prisons? – movie, discussion and letter writing
We invite you to a discussion about the reality of the prison system, the everyday experiences of millions of people, the myths and half-truths spread to legitimize the existence of prisons.
The discussion will begin with a 30-minute film created by the American group Sub.Media – "Trouble #20 Inside-out: Against Prison Society", but our discussion does not have to concern only the foreign context. We will also touch on the statistics of the Polish prison system.
During the meeting none of us will play the role of experts. We would like to have an equal conversation on a topic that is important to us, during which the voice of each person will be equally important. That is why we invite both those who have already formed an opinion and those who would like to get a view on anarchistic perspective on the prison system.
So called Poland / Warsaw / Jazdow 5a/4
start at 8pm
August 29th
– Concert – Nervöus /Ger/ • Karkait /Isr/ • Social Crisis /Pl/•
So called Poland / Warsaw / Social Center ADA Pulawska (Pulawska 37 Street), start: 7pm.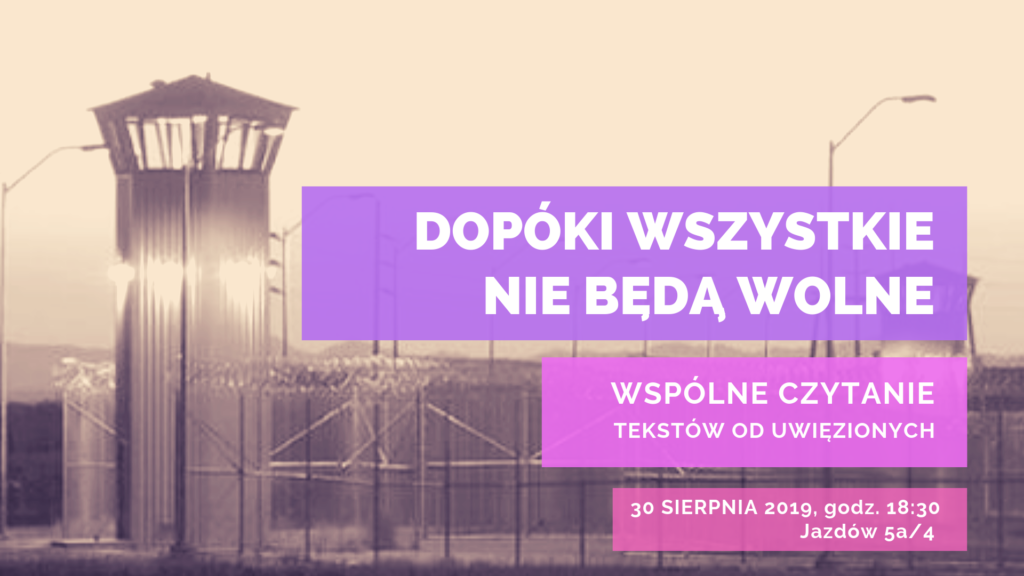 August 30th
– Till All Are Free – Collective reading of letters from prisoners –
During the evening, we will read aloud several selected letters, statements or messages written by anarchists, anti-fascists, migrants, activists in prisons all over the world. Every participant will be able to take part in the reading, or you can just come and listen. Together we will create a situation conducive to learning and experiencing the words of those who have been imprisoned behind walls and bars. This evening, although physically isolated from us, we will give them a voice to learn about their stories. After the reading, we will talk about the message of these communiqués, about the lives of detainees, about the realities of the prison system, and about our emotions in relation to it.
During the evening it will also be possible to write a letter or postcard to the prisoners. A distro of the Anarchist Black Cross will also be available.
So called Poland / Warsaw / Jazdow 5a/4 / start at 6:30 pm