We chose couple of our favorite pop culture (not only) films about prison.
Brubaker (1980)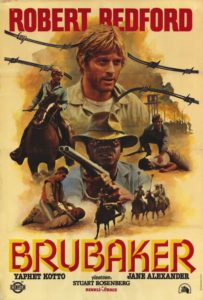 Brubaker is a 1980 American prison drama film directed by Stuart Rosenberg. It stars Robert Redford as newly arrived prison warden Henry Brubaker, who attempts to clean up a corrupt and violent penal system.
The Boy in the Striped Pyjamas (2008)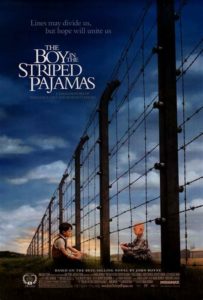 Set during WWII, a story seen through the innocent eyes of Bruno, the eight-year-old son of the commandant at a German concentration camp, whose forbidden friendship with a Jewish boy on the other side of the camp fence has startling and unexpected consequences.
Escape from Alcatraz (1979)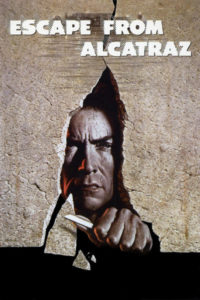 Take the tour around San Francisco's notorious Alcatraz prison island and you'll hear that nobody has ever successfully escaped – but one man broke out and disappeared, and this movie tells his tale. Clint Eastwood is as fine and understated as ever as Frank Morris, and the movie manages to sidestep the majority of prison movie cliches.
Escape from Sobibor (1987)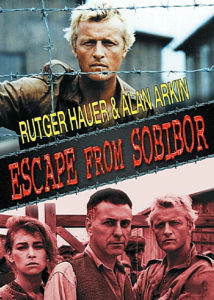 Escape from Sobibor is a story of the mass escape from the extermination camp at Sobibor, the most successful uprising by Jewish prisoners of German extermination camps.
The Green mile (1999)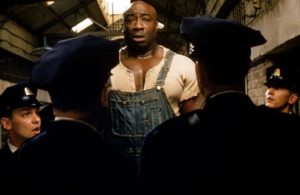 The lives of guards on Death Row are affected by one of their charges: a black man accused of child murder and rape, yet who has a mysterious gift.
Guerilla (2017)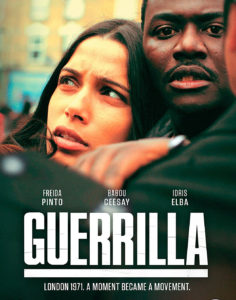 Guerrilla is a six-part British drama miniseries set in early 1970s London, against the backdrop of the Immigration Act 1971 and British black power movements, such as the British Black Panthers and Race Today Collective. A plot is a love story set in the atmosphere of one of the most politically explosive times in UK history. A politically active couple have their relationship and values tested, when they liberate a political prisoner and form a radical underground cell in 1970s London.
Hunger (2008)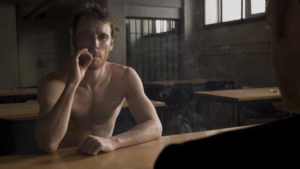 IRA fighters are struggling in a Northern Irish prison and setting up a hunger strike.
Kiss of the Spider Woman (1985)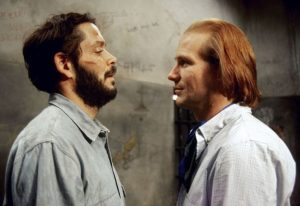 The film tells of two very different individuals who share a prison cell in Brazil during the Brazilian military government: Valentin Arregui, who is imprisoned (and has been tortured) due to his activities on behalf of a leftist revolutionary group, and Luis Molina, a transgender woman in prison for having sex with an underage boy.
The Stanford Prison Experiment (2015)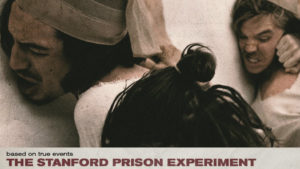 Stanford University psychology professor Philip Zimbardo conducts a psychological experiment to test the hypothesis that the personality traits of prisoners and guards are the chief cause of abusive behavior between them. In the experiment, Zimbardo selects fifteen male students to participate in a 14-day prison simulation to take roles as prisoners or guards.
In The Name Of The Father (1993)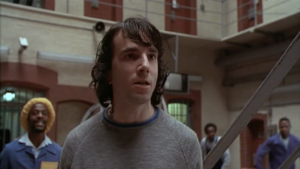 In the Name of the Father is Irish-British-American biographical courtroom drama film co-written and directed by Jim Sheridan. It is based on the true story of the Guildford Four, four people falsely convicted of the 1974 Guildford pub bombings, which killed four off-duty British soldiers and a civilian.
Salvador (2006)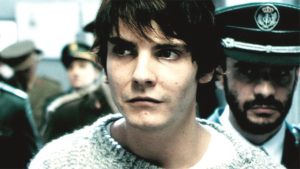 Salvador (Puig Antich) is Spanish film directed by Manuel Huerga. It is based on the Francesc Escribano book Compte enrere. La història de Salvador Puig Antich, which depicts the time Salvador Puig Antich spent on death row prior to his execution by garrote (the last one by mean of this), under Franco's Francoist State in 1974.
Sacco e Vazetti (1971)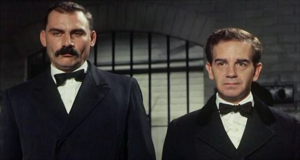 The story is based on famous events surrounding the trial and judicial execution of Nicola Sacco and Bartolomeo Vanzetti, two anarchists of Italian origin, who were sentenced to death by a United States court in the 1920s.
The Shawshank Redemption (1994)

The Shawshank Redemption is a drama film based on the 1982 Stephen King novella Rita Hayworth and Shawshank Redemption. It tells the story of banker Andy Dufresne, who is sentenced to life in Shawshank State Penitentiary for the murder of his wife and her lover, despite his claims of innocence.
Zero for Conduct (1933)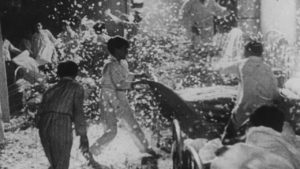 The film draws extensively on boarding school experiences to depict a repressive and bureaucratised educational establishment in which surreal acts of rebellion occur, reflecting anarchist view of childhood.