Here you will be able to find open public events for the week of solidarity. If you don't find you country/city here – ask around and maybe there is something happening around but not announced in the internet.
Aug
24
Thu
Soli Schreibwerkstatt und Vortrag Wien

@ EKH
Aug 24 @ 6:00 pm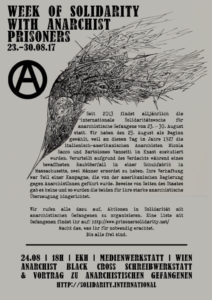 Die August-Schreibwerkstatt wird auf Grund der Aktionswoche auf den 24.08. vorverschoben. Wir möchten euch bei dieser Gelegenheit auch 3 Fälle/Gefangene näher vorstellen: Der Fall um die wegen Bankraub angeklagten Anarchist_Innen in Aachen, den anarchistischen Langzeitgefangenen Thomas Meyer-Falk und Jock Palfreeman. Außerdem möchten wir die Gelegenheit nutzen um ein Solifoto zu schießen, also zieht euch was Schönes an.
Macht selbst Aktionen und zeigt euch solidarisch!
Freiheit für alle!
gegendielangeweile.net/event/soli-schreibwerkstatt-und-vortrag-ekh/
Aug
27
Sun
Solidarity towards anarchist prisoners with speaker and bingo! Helsinki
As a part of international solidarity week for anarchist prisoners, we are organizing an event with an antifascist speaker froum Russia. Later on we have bingo and serve sweet buns for you to "pimp them up"!
Instead of Saturday, the event will be held on Sunday, 27th of August at Squat Kumma (https://kumma.me) in Helsinki.
The event begins with the presentation around 3pm and the topic is "Anti-authoritarian political prisoners and repression in Russia". We will start the bingo after that and the lucky ones can expect some amazing delicacy prices! Apart from the sweet buns, we have prepared some snacks to keep the hunger away. There is also a possibility to write support letters to those in prison. All the food and drink is vegan, of course.
Helsinki ABC, amrhelsinki.org, amr_hki@anarkismi.net